Mobilizing Women Globally for Peace in Korea
May 2015 DMZ crossing
In May 2015, on the 70th anniversary of Korea's division into two separate states by cold war powers, thirty international women peacemakers from around the world walked with thousands of Korean women, north and south, to call for an end to the Korean War, reunification of families and women's leadership in the peace process. We held international peace symposiums in Pyongyang and Seoul where we listened to Korean women and shared our experiences and ideas of mobilizing women to bring an end to war and violent conflict. On May 24, International Women's Day for Peace and Disarmament, we successfully crossed the 2-mile wide De-Militarized Zone (DMZ) that separates millions of Korean families as a symbolic act of peace.
Since our historic crossing, we have continued our journey to mobilize women globally for peace in Korea. We seek to do this by…
Raising global awareness about the urgent need for peace in Korea
Expanding and deepening relationships among women leaders and organizations in North and South Korea and globally
Promoting women's leadership in peace-building processes on the Korean peninsula and region
Building capacity and partnerships for greater impact and sustainability
#WomenPeaceKorea: A New Era
All Women Delegation to South Korea
May 23–27, 2018
Women Cross DMZ, in partnership with the Nobel Women's Initiative and the Women's Peace Walk, a coalition of more than 30 women's peace organizations in South Korea, will travel to Seoul, South Korea May 24-26 for the #WomenPeaceKorea: A New Era delegation. Follow the delegation hashtag #WomenPeaceKorea on social media and keep up to date on our journey to endure women's inclusion in the Korea peace process.
On April 27, South Korean President Moon Jae-In and North Korean Chairman Kim Jong-Un signed a historic agreement seeking to formally end the Korean War. This is an exciting moment, but also a fragile one. That's why a diverse coalition of security experts, women's rights organizations and leading feminist peace activists – including Nobel Peace laureate Mairead Maguire – from around the world will come together to make the most of this diplomatic window. We know that for real mediation to occur, women's movements must be included in the peace process.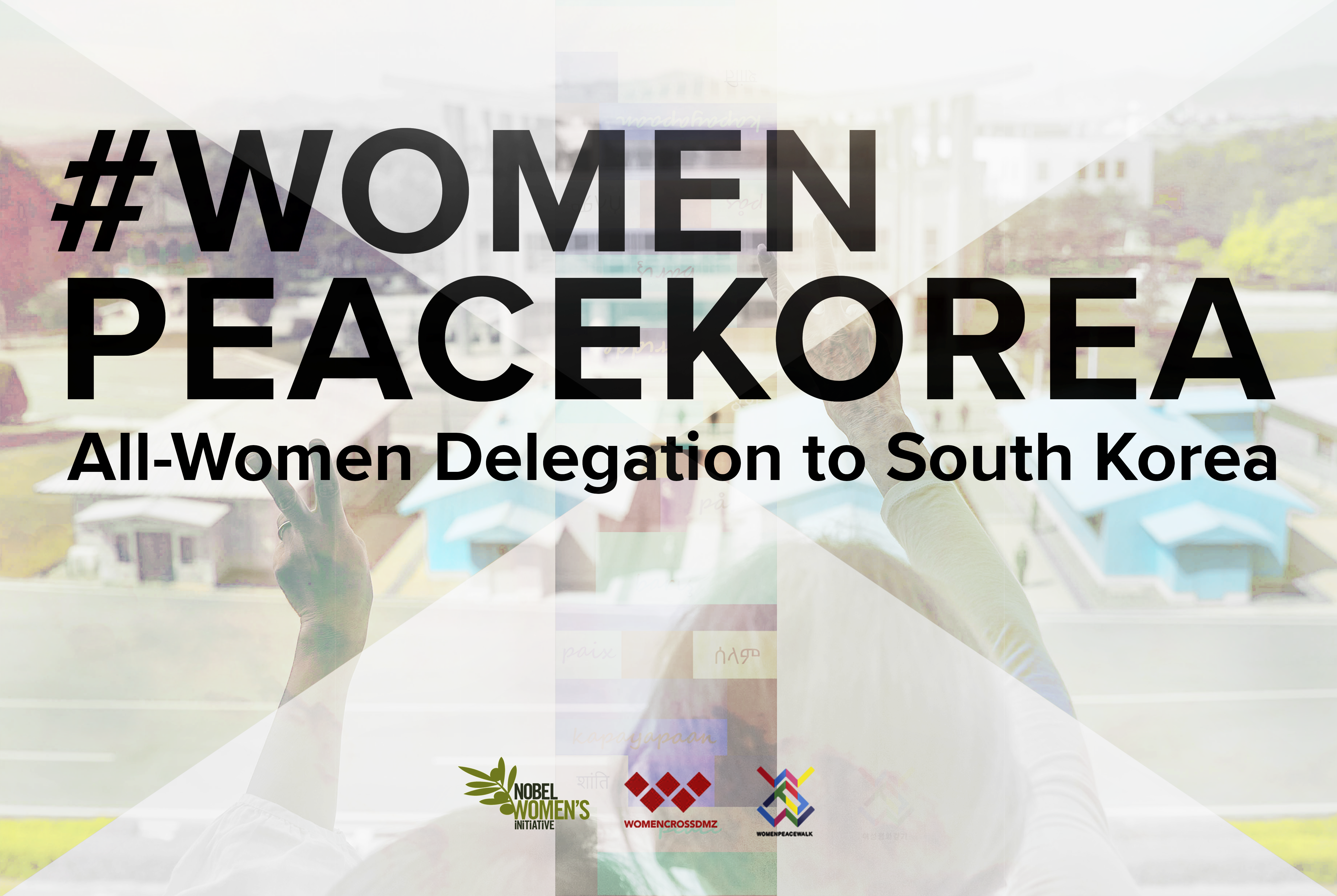 Facts
4 Million people died in the Korean War of 1950–53, most of them Korean civilians.
10 Million families are still separated by the DMZ.
70 Million Koreans live in a state of war due to unresolved conflict.
60+ Years after the war ended with a temporary cease-fire agreement, we're still waiting for a peace treaty.
$1 Trillion is spent by USA, China, Russia, Japan, and South Korea on militarization, fueled by unresolved conflicts.
Featured
Women Cross DMZ: Who We Are Video
Copyright 2018 Women Cross DMZ
Press conference
11:30 AM
Gwanghwamun square
Seoul. South KoreaLearn more. . .
Press Conference May 23
Candlelight Vigil May 23
Peace Symposium- May 24
Peace Walk/Festival- May 25Learn more. . .
Take Action