Mobilizing Women Globally for Peace in Korea
In May 2015, on the 70th anniversary of Korea's division into two separate states by cold war powers, thirty international women peacemakers from around the world walked with thousands of Korean women, north and south, to call for an end to the Korean War, reunification of families and women's leadership in the peace process. We held international peace symposiums in Pyongyang and Seoul where we listened to Korean women and shared our experiences and ideas of mobilizing women to bring an end to war and violent conflict. On May 24, International Women's Day for Peace and Disarmament, we successfully crossed the 2-mile wide De-Militarized Zone (DMZ) that separates millions of Korean families as a symbolic act of peace.
Since our historic crossing, we have continued our journey to mobilize women globally for peace in Korea. We seek to do this by 1) Raising global awareness about the urgent need for peace in Korea; 2) Expanding and deepening relationships among women leaders and organizations in North and South Korea and globally; 3) Promoting women's leadership in peace-building processes on the Korean peninsula and region; and 4) Building capacity and partnerships for greater impact and sustainability.
WHY WOMEN MUST ACT FOR PEACE IN KOREA NOW
After nearly 4 million people, mostly Korean civilians, were killed during the 1950–53 Korean War, fighting was halted when North Korea, China, and the United States representing the UN Command signed a ceasefire agreement. They promised within three months to sign a peace treaty; over 60 years later, we're still waiting.
The unresolved Korean conflict gives all governments in the region justification to further militarize and prepare for war, depriving funds for schools, hospitals, and the welfare of the people and the environment. That's why women are walking and will continue to work across boundaries to help reunite families and realize peace in Korea for world peace.
Facts
4 Million people died in the Korean War of 1950–53, most of them Korean civilians.
10 Million families are still separated by the DMZ.
70 Million Koreans live in a state of war due to unresolved conflict.
60+ Years after the war ended with a temporary cease-fire agreement, we're still waiting for a peace treaty.
$1 Trillion is spent by USA, China, Russia, Japan, and South Korea on militarization, fueled by unresolved conflicts.
Events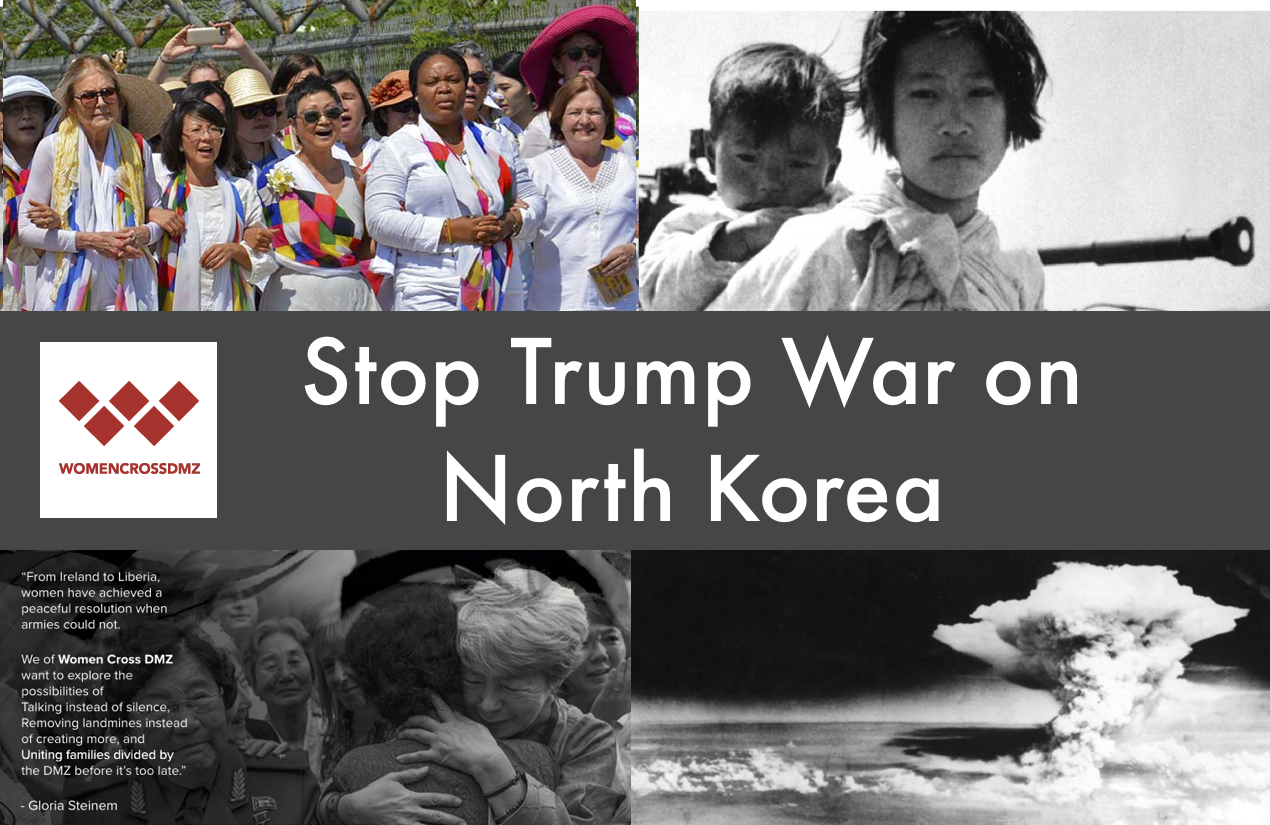 Our work is possible because of the strong movement of people like you who will continue to believe in and support us.
This holiday season consider making a tax-deductible contribution to help prevent nuclear war on the Korean peninsula.
Your support is needed now more than ever.Learn more. . .
International Webinar with Dr. Henri Feron, LLM
Wednesday, December 6, 2017
7 pm ESTLearn more. . .
Take Action