CHRISTINE AHN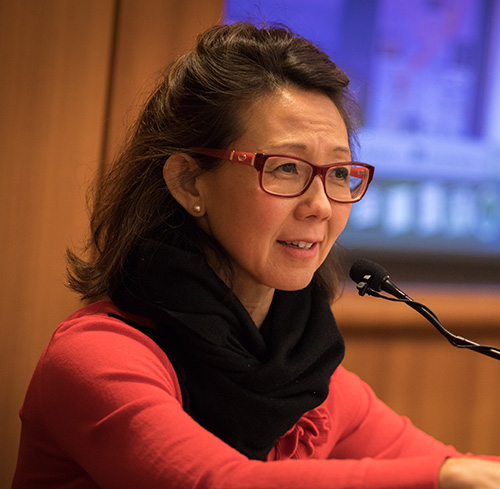 International Coordinator
Christine is the founder and International Coordinator of Women Cross DMZ, a global movement of women mobilizing to end the Korean War, reunite families, and ensure women's leadership in peace building.
She is the co-founder of the Korea Policy Institute, Global Campaign to Save Jeju Island, and National Campaign to End the Korean War. Christine has organized peace and humanitarian aid delegations to North and South Korea, and has spoken in Congress, United Nations and the Republic of Korea National Commission on Human Rights. Ahn is the former Senior Policy Analyst at the Global Fund for Women and has worked with the Oakland Institute, Grassroots Global Justice, Institute for Food and Development Policy, and Nautilus Institute for Security and Sustainable Development. She served for six years on the board of the National Committee for Responsive Philanthropy.
Christine is a columnist with Foreign Policy In Focus, and her writings have appeared in The New York Times, San Francisco Chronicle, CNN, Huffington Post, Inter Press Service, Truthout and The Nation. She is also the editor of Shafted: Free Trade and America's Working Poor, author of The Revolution Will Not Be Funded: Beyond the Nonprofit Industrial Complex, and co-producer of Fashion Resistance to Militarism. She has appeared on Al Jazeera, Anderson Cooper 360, CNN, Democracy Now!, NBC Today Show, NPR and Voice of America.
She was been awarded a Twink Frey Visiting Social Justice Activist by the University of Michigan, Center for the Education of Women, as a Rising Peacemaker by the Agape Foundation, as a social justice leader by the Wallace and Alexander Gerbode Foundation, and as a Progressive Women's Voices Fellow by the Women's Media Center. Christine has a Master's in Public Policy from Georgetown University and a certificate in Ecological Horticulture from the University of California, Santa Cruz.
---